WINGSUIT AND TRACKING SUIT OPTIONS
Our Wingsuits and Tracking Suits come with an extensive range of product features, some included standard and some as optional extras. Each individual products and it's page in our design application lists which features are available to choose from.

5/10 Soles
High grip soles, to prevent wear and assure good footing during exits from airplane and cliffs.

Leading Edge
All Phoenix-Fly wingsuits come standard with pre-shaped foam leading edge, to assure clean aerodynamics and maximum control during flight.

Smart Phone Pocket
Stash your every day items such as phone, pull-up cords in a chest pocket, for safe storage and easy access. Standard on our full product line.

Backfly Inlets
Dual airlocked inflation, to enable smooth and controlled backflying and acrobatics.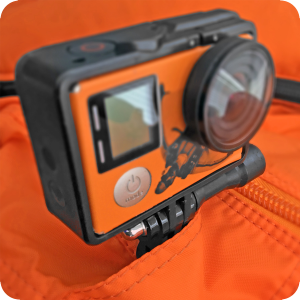 Action Camera Hole
An aerodynamically shielded hole for placement of a chest mounted action camera.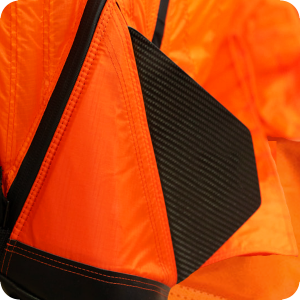 Carbon Fiber Fins
CF fins exclusively available as an option on our Phoenix-Fly Vampire line, creating more lateral stability, direct control and maneuverability.

Material options
We offer our suits (standard) Parapak and Ultra Light (UL) for low drag and reduced weight characteristics.
For those looking for an additional weight reduction, we have super-UL material available.

Custom Print
Phoenix-Fly offers (in house) sublimation printing, for fully customizable design. Contact us for more details.

BASE / Skydive Rigging
Our suits are available in 2 different rigging setups, with dual zipper setup suitable for Skydive and BASE or (low drag) single zipper setup for BASE only.

Tail Cargo Pocket
A full size pocket, placed inside the tail deflector of our wingsuits / tracksuits for maximum storage capability.

Side Cargo Pockets
Additional side pockets for ropes, clothing or other climbing gear.

Pole Pockets
Pockets placed inside the booties/legs of our wingsuits and tracksuits, allowing for comfortable storage of hiking poles.

Rain hood
Available in our 2 piece tracking suits, the hood adds additional comfort and protection from cold and rain during hiking.

Tunnel Snaps
For Wingsuit Tunnel Flying and aggressive acrobatics, we have optional 'tunnel snaps' for a more secure closing of the suit.

Pressure Adjustment Zippers
zippers to adjust internal pressurization of the wings to tweak flight characteristics and deployment to your preference.

'Ghost' Gripper
Designed for wingsuit acrobatics, the internal gripper provides the user with the option of flying the suit completely hands free, while retaining the classic function of a gripper during exit and (performance) flying.
PRICE LIST
All prices are excluding .VAT and Shipping
Orders outside EU are free of VAT. 
Shipping prices will vary depending on region.
Phoenix-Fly is not responsible for import/customs duties.
WINGSUITS
Vampire '22 Comp. – 1850 Euro
Vampire '22 – 1830 Euro
Meru '22 – 1750 Euro
Rafale '22 – 1620 Euro
Strix '22 – 1540 Euro
Havok '22 – 1490 Euro
Phantom '22 – 1320 Euro
Shadow '22 – 1210 Euro
TRACKING SUITS
Arrow '22 – 1290 Euro
OneSie Power '22 – 1190 Euro
Power 2 Piece Pants – 370 Euro
Power 2 Piece Jacket – 320 Euro
Power 2 Piece (Combo) – 690 Euro
Classic 2 Piece Pants – 345 Euro
Classic 2 Piece Jacket – 320 Euro
Classic 2 Piece (Combo) – 665 Euro
OPTIONS
Dual Side Pockets – 55 Euro
Cargo Deflector Pockets – 40 Euro
Zipper Venting System – 45 Euro
Pole Pockets – 35 Euro
Base Soles – 35 Euro
Action Cam Opening – 25 Euro
Backfly Inlets – 55 Euro
Full UL –  2P/1P/WS – 80/130/180 Euro
UL Internals – 2P/1P/WS – 30/60/90 Euro
CF Fins V Series – 120 Euro
Int. Hood 2P – 45 Euro
Subl. Graphics Print – 390 Euro
Graphic Design – 40 Euro/H
B/W Heatpressed Logo – 80/100 Euro
Color Heatpressed Logo – 110/130 Euro
LEAD TIMES
High volume of orders currently our lead time is at 5 months (19-21 Weeks). As we are currently expanding our production line, we do expect the lead time to come down in the second half of the 2022 season.
To not create further delays, we currently don't have any rush option available.