HAVOK '24
The Havok is a purpose designed all rounder for formation flying, entry level BASE jumping but most of all wingsuit acrobatics. The ideal suit to train and perfect smooth transitions, backflying, headdown carving and more.
It's the one tool even the most experienced pilots, already flying bigger suits for a long time, tend to keep in their arsenal due to its versatility.
The Havok has been dominating competitive acrobatic wingsuit flying from 2015 onward, with top competitors in both the sky and tunnel choosing the suit as their main weapon, taking 1st place at both the 2019 and 2021 World Cup and World Championships.
Featuring a gripperless armwing design, the suit features an easy pull and is intuitive to fly from the very first jump. For this reason the Havok is also a popular choice for those making the transition from wingsuit skydiving to wingsuit BASE.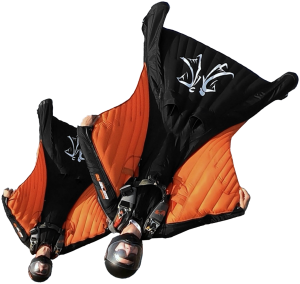 OPTIONS
Constructed from Parapak, Porcher Ultralight material and YKK Zippers, the Havok is built to the highest standards. Every suit is inspected by quality control before shipping out.
A wide array of available options allow the suit to fully be tweaked to your personal preferences.
Backfly Inlets (Standard)
Acro 'Ghost' grippers (Standard)
Smart phone pocket (Standard)
Preshaped foam leading edge (Standard)
5/10 Soles
Base or Skydive Rigging
Action Camera Mounting Hole
Tail Cargo Pocket
Side Cargo Pockets
Sublimation Printed Design
Ultra Light (UL) Material
1490 Euro
(ex. VAT)
For more information on options and pricing check here
MEDIA